Collection Cells "My icons
This cell collection, based on my very first series "MY ICONS", features actors, singers, characters who have
It features actors, singers, characters who have rocked my youth or marked a moment of my life.
The way to present them to you came to me after a long research on myself and on the new direction I wanted to take as an artist.
I hope that "MY ICONS" will transport you into the world of precious moments of your life, just as it is for me.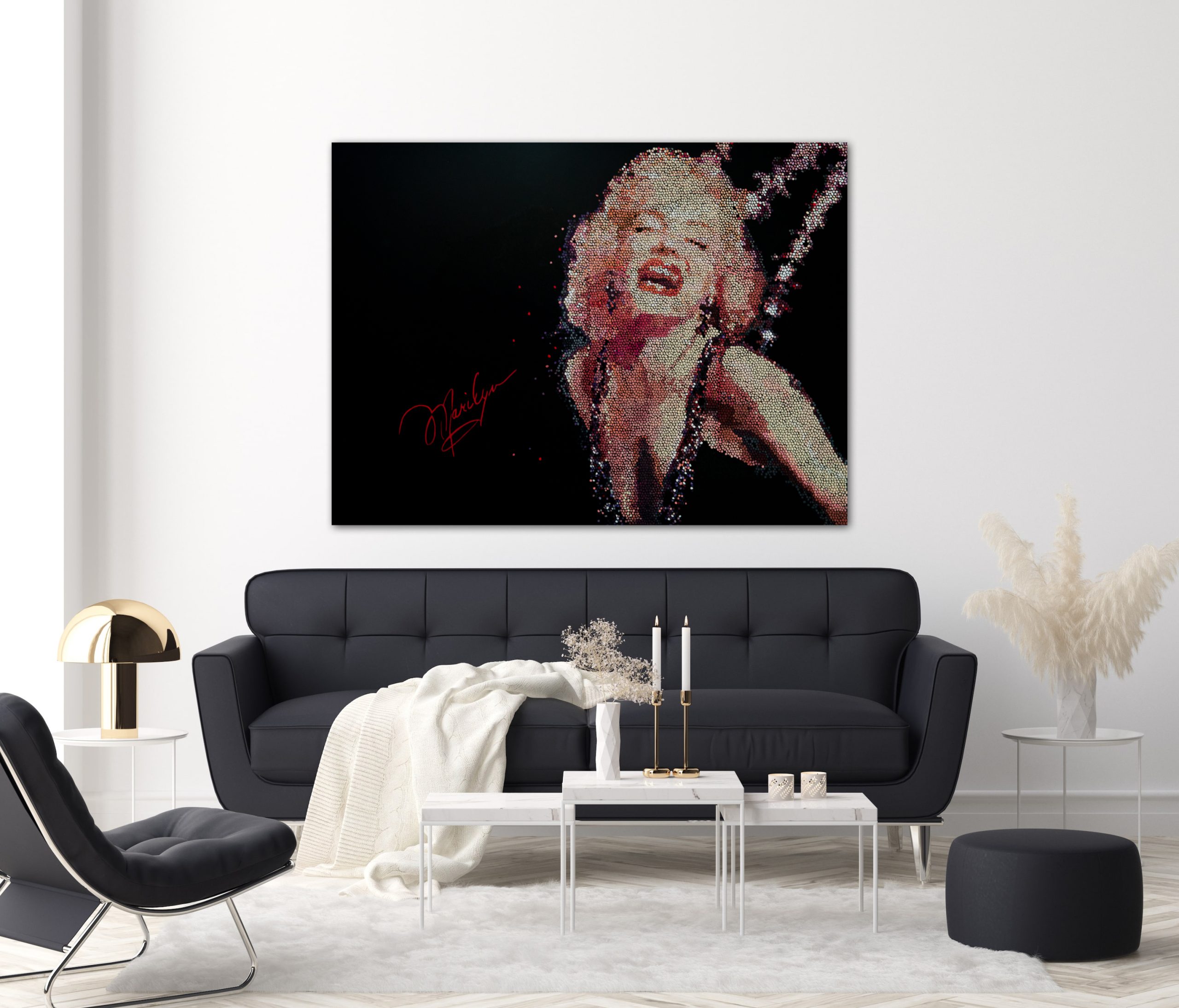 Share this image on your social networks
THE "KING"
72X48
Acrylic on canvas 
Whether it is by singing " MY WAY ", my very first 45, IT'S NOW OR NEVER that one of my uncles sang at the slightest opportunity and which I adored waiting for
Watching one of his old movies from that time,
Listening to one of his concerts
Watching the movie about his life
ELVIS, THE KING
Does not leave anyone indifferent
He transports us in his world, his universe which wants to be at the same time so beautiful and so striking
ELVIS AARON PRESLEY
Was born on January 8, 1935 in Tupelo, Mississippi and died on August 16, 1977 in Memphis, Tennessee
Barely 42 years old
The "KING" will be forever alive
FOREVER INIMITABLE
MARILYN
40X30
Acrylic on canvas 
I remember in my secondary 2 art class, Jeannine taught us lead drawing, at that time my first sketch was Marilyn.
This woman by her great beauty always knew how to attract people's attention.
Marilyn Monroe" Norma Jeane Mortenson was born on June 1, 1926 in Los Angeles, California and died on August 5, 1962, Los Angeles, California.
Barely 36 years old
Icon, star, sex symbol, actress, singer…..Marilyn will have many adjectives to define her
THE CHILD, THE FRIEND, A LOVED ONE
48 x 64
Acrylic on canvas
Our "ICONS" are also a father, a mother, a grandparent.
When I look at this child,
I can hear the echo of my grandmother humming this angelic melody.
THE HEART DOES NOT GROW OLD.
Which each time touches and moves me.
WISDOM, TRANQUILITY AND PEACE
GREASE
48×60
Acrylic on canvas
Sweet and tender moment of nostalgia awakens in me.
SANDY & DANNY
You who accompanied me in my youth, idols of my generation, always travel through time.
By your songs that it is "Summer Nights", You're The One That I Whant", "Hopelessly Devoted To You", and more, we let ourselves be invaded and carried by the emotion. Without realizing it, we are singing and dancing.
You make us dream.
While leaving room for the imagination and the enchantment of the present moment.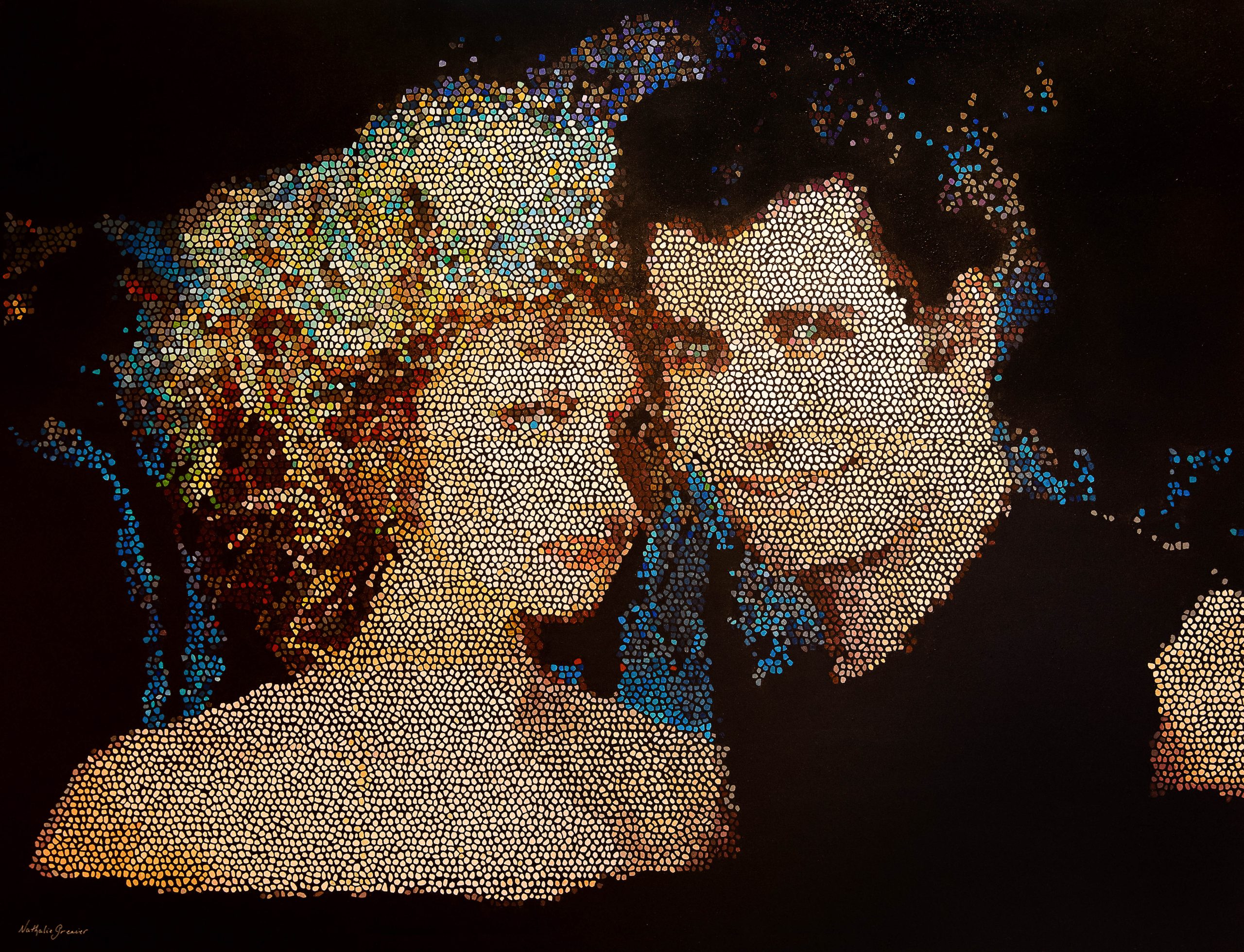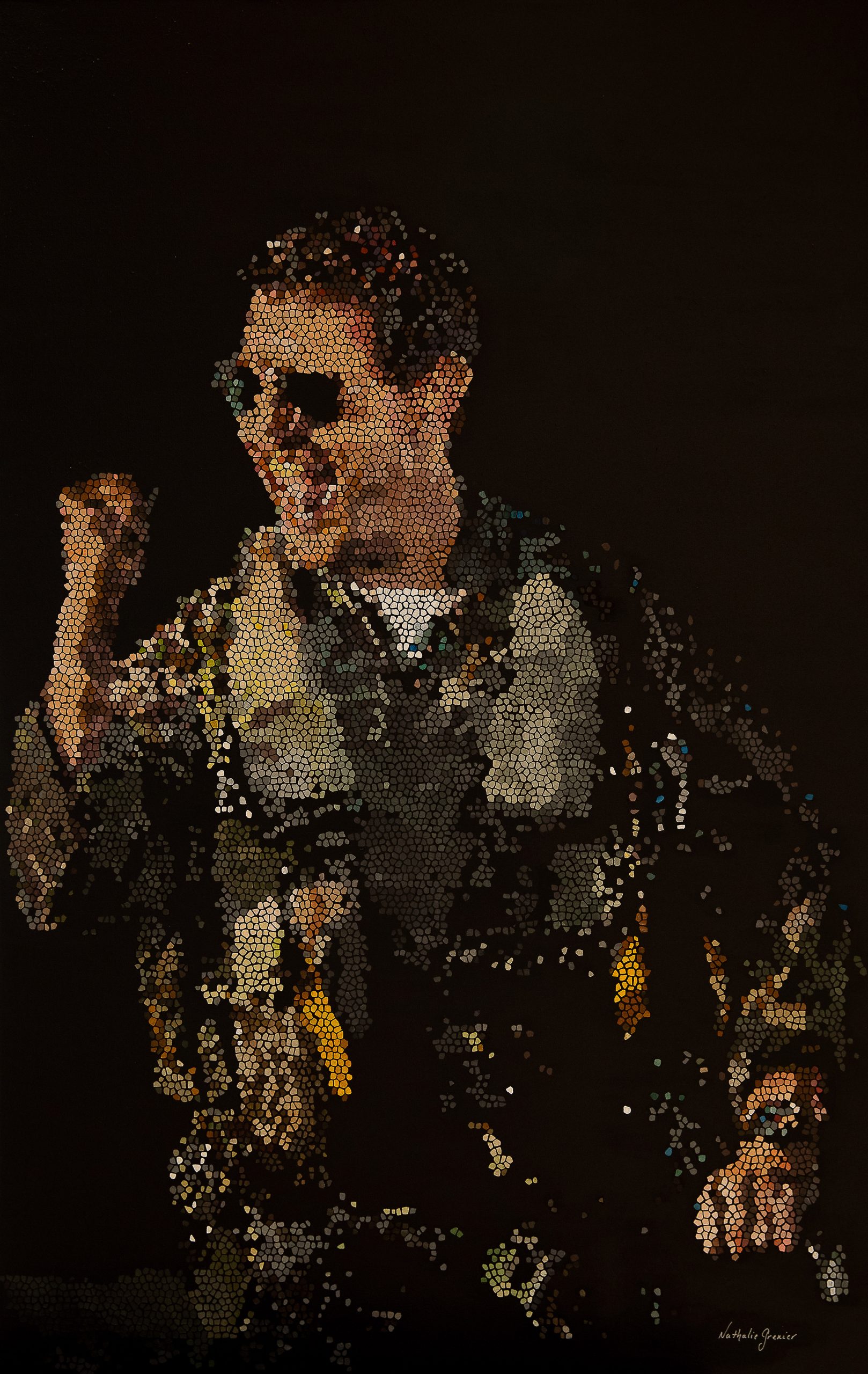 MAVERICK
48 x 30
Acrylic on canvas
Let yourself be taken in by the game!
Hover, daydream, have your head in the clouds ….. To be completely subjugated
This is the Maverick effect, or that Tom Cruise exercises on many of his fans.
He fascinates, captivates and conquers a wide audience of all ages.
SUCCESS FAME AND PRESENCE
AUDREY HEPBURN
48 x 36
Acrylic on canvas
Audrey Kathleen Ruston, known as Audrey Hepburn was born on May 4, 1929 and died on January 20, 1993 at the age of 63.
This young woman has a graceful figure, a fine face with doe eyes, knows an incredible success, she is considered one of the greatest Hollywood actresses of the 1950s and 1960s.
Actress, model, it is in 1967 that she puts an end to her career to devote herself to humanitarian aid for children, she multiplies her trips to Africa and Latin America for UNICEF, of which she becomes ambassador in 1983
Her name will be engraved in us forever.